Struggling, Hard Times And Evolving | Time To Change
How are you dealing with the struggles and hard times in your life? Are this problems putting you down? Are they so strong that you can not bear because you never ever witnessed them?
I know how you feel and I know how hard it is thinking I could not bear it happened? You know what; it is not the end of the history or even the end of the line.
Trust me it is only a hard time where sooner you will look back and will realize how simple it was.
Keep with me
Struggles at some time become impossible to handle. However, depending on the way you look at these problems, they can destroy or leverage your life to the next level.
I don't need to explain here that the human being runs from pain towards pleasure. Problems and challenges are same as fire makes the steel stronger and burns the wood.
A raw piece of steel that is weak, can not be used to make a knife or even an axe straight away. To do that so, it should be introduced to high temperatures and of course receive many hits from a blacksmith.
After passing through the fire and receive many hits, it is folded and redoubled. The final result is a stronger piece of steel that is no longer raw, but a beautiful shining tool, whatever it is.
Now imagine a piece of wood going through the same process the raw piece of steel had to pass? How it would become? A shining beautiful tool or ashes? Actually, wood is used as lumber to heat the steel. You know what I mean?
Hard Times – Being straight to the point
What material are you made by? Steel or a piece of wood? Hard times will destroy you or strengthen you, and the unique way to change your current situation is by changing the way you look to your problem and yourself.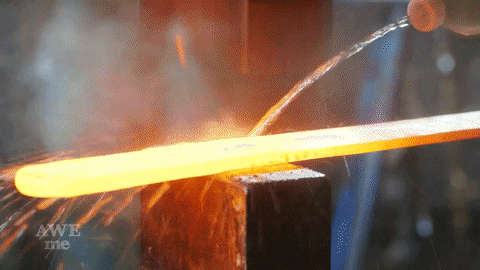 If you only martyrize yourself because your current problem, what will happen? Cry, shout or call the police will change nothing?
See the problem face-to-face and tell yourself that you will change is the unique and the best way to do
Your mom or God won't come to take your hands to help you out. Let's be realistic here. In our lives, God lives us alone to strengthen us.
Awareness as a way to go to the next level
Therefore, another thing that is important if you want to be strong through hard times is self-awareness.
Awareness is a noun which means knowledge or perception of a situation or fact. Think about the problem you want to change, what you did that make it or they appear, are them deeply hurt you?
Are you in a current situation where your problems are so suffocating they are making you depressed and low? These are a few questions that can bring your awareness.
If you're going through hell, keep going.
Winston Churchill
Once you have already spotted your problem, you have to start moving out of it. Without knowing the real reason why you are in the situation you are, it will be hard to move out from it.
With self-awareness, it will be easy to see what you have to fight and develop different skills to get out of this situation.
After you have spotted and found exactly what and where you are struggling, you have to start acting to leave it for good.
It is time to leave
You became aware and spotted your problems, what is next? The next move is to leave your problem behind. And for you to have this level of impact you will need to do what you are not used doing.
In other words, you will have to become strong. The greatness of it is that you are now a few steps to become a stronger person.
Committing to leave a problem (I mean, solve it not just leave like a coward) you will have to develop confidence, focus and revolt, yes revolt.
Revolt is one of the most important verbs to get out of a problem, I would say, revolt gives the energy to focus and commitment to change and leave a problem for good.
When you are aware, committed, focused and revolted about your problems, oh God, nobody will stop you.
The final result of your new personality
Ok, you passed through bad times, maybe the worst so far. However, fortunately, you could leave it. Once you have done what you should have done, you will see how strong you have become.
Struggles and bad times are made to make you strong or to kill you. Doesn't matter what it is, a disease, financial, familiar, etc. When you stand up to change, it has and will change (commitment & revolt).
Remember the parable I have mentioned above about the steel and the wood, you will pass through hard times. It will heat but you will become strong. Does it depend on which material are you made by?
I had many problems since financial in 2011 where I lost my company where many of my "friends" leave me as well together with whom said, "I love you". This was one problem that almost kills me but I become strong and I could solve it.
Life is 10% what happens to you and 90% how you react to it.
Charles R. Swindoll
In 2016, unfortunately, I found a disease in my body, specifically my liver, where I thought I would die. However, again I manage to not accept it in my body and I did whatever it takes to cure my it.
The final result is that I became a stronger person. If I compare the person I was in 2011 to the person of today, I would say the person of today is stronger than ever and almost 100% armoured against depression and futility. Also committed and focused.
This is the level you too have to achieve. Be aware of your situation, who cares what are you going through right now?
Understanding this heavy truth will make you act towards changing your life. Don't be sad with the truth, be sad by your current situation, be sad why you are not moving out from your problems.
I know it is hard but you can do your best whatever it is wherever you are.